Fahrzeugtyp: BMW
Modell: 3 Series E46 Compact
Variante: Alle modellen
Baujahr ab:04.98 - 12.04
Anzahl der Teile: 19
osition der Teile:Fahrzeug-Innenausstattung , Innen tuning, Armaturenbrett, Türen, Lüftungsschlitze, Handschuhfach, Lenkrad, Lichtschalter, Getriebe, Innendekoration, Cockpit Dekor
3D-Effekt durch dickes Material, ergibt einen Hochglanz-Effekt, Wurzelholz, Carbon, Fahrzeug-Ausstattung Woodline Dekor de Luxe Top Qualität
Weiterlesen
Hinzufügen zum vergleichen
0
Exclusive 3D Fahrzeug-Ausstattung Woodline Dekor de Luxe Top Qualität.
Eine exklusive Aufwertung für Ihr Fahrzeug – chic, elegant, wertvoll
20 edle oder moderne Designs zur Auswahl an. Ob z. B. Wurzelholz, Mahagoni, Alu, Carbon oder Techno, für jeden Typ ist etwas dabei, alle zum gleichen Preis
3D-Effekt durch 2,5-5 mm dickes Material, ergibt einen Hochglanz-Effekt (hergestellt aus Polyurethane PUR)
Qualitativ sehr hochwertige Ausführung – eine runde Sache ohne Ecken und Kanten. Die Oberfläche entspricht einer 10-fachen Lackierung mit Hochglanzpolitur
Absolut passgenau für das jeweils angegabene Fahrzeug, VHB hitzebeständig und kälteresistent, biegsam und flexibel. Nicht zum Überkleben vorhandener Dekoraufsätze geeignet.
PU-PUR Kratzfest und splitterfrei – keine Verletzungsgefahr bei einem Unfall (TÜV-Sicherheitsgeprüft)
Schnellmontage in ca. 10-15 Minuten – selbstklebend ohne Einsatz von aggressivem, giftigem Sekundenkleber. Beste Haftung garantiert.
Wieder ablösbar – keine Beschädigung des Untergrundes bei der Montage möglich.
Passgenau verfügbar für hunderte Fahrzeuge.
Alle Sets sind passgenau für das jeweils angegebene Fahrzeug. Wählen Sie eines von 20 edlen oder modernen Designs zur Auswahl an. Ob z. B. Wurzelholz, Mahagoni, Alu, Carbon oder Techno, für jeden Typ ist etwas dabei. – alle zum gleichen günstigen Preis!Schauen Sie sich zu unserem Beispiel in der Einbauanleitung die passenden Vorher-Nachher-Bilder an und entscheiden Sie selbst.
Neues InnenDekor, zum Beispiel im Aluminium-Look, INOX-Look, Chrome-Look.
Cockpit PVC folien-Designs für jeden Geschmack. Aluminium Cockpitdekor, Chrom Cockpit, INOX Gebruched Dekor

& Between -40 / +280C short-term heat resistance
& Excellent solvent resistance
& Excellent shear strength to resist slippage and edge lifting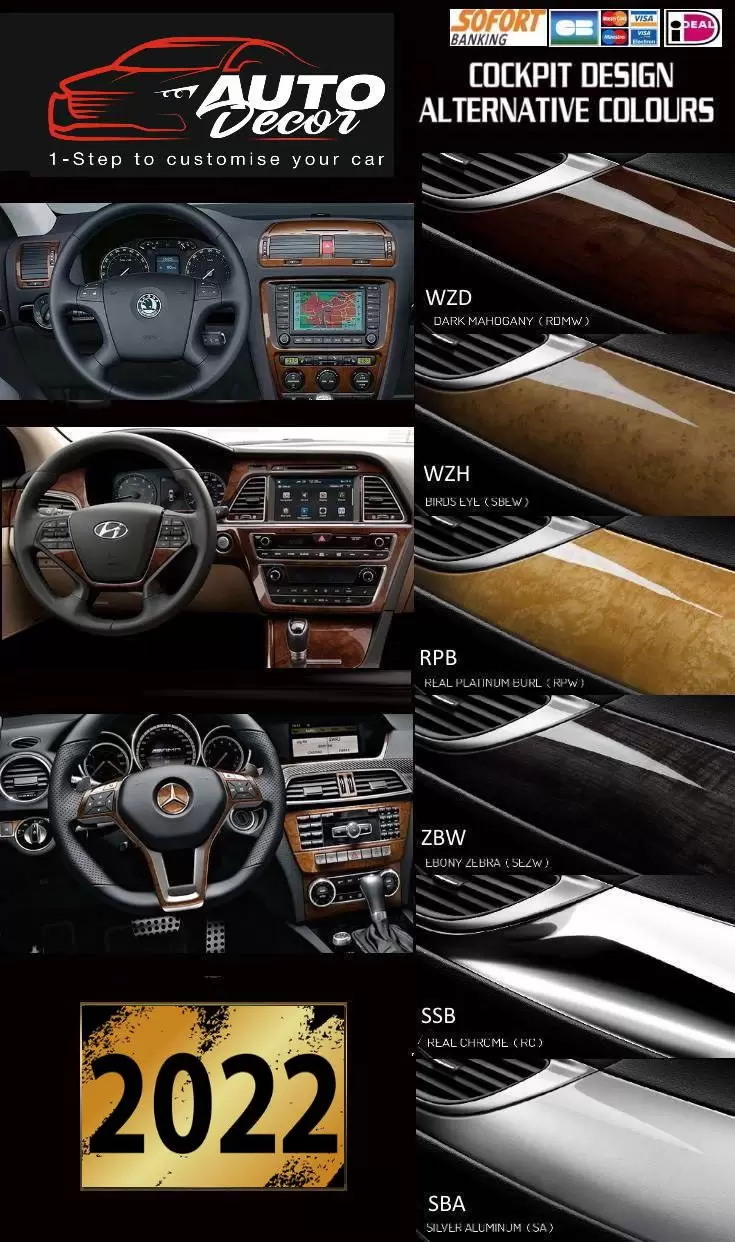 Weiterlesen
Technische Daten
Exclusive

Wood
3D

Da un efecto de brillo efecto fabricado de Polyurethane de muy alta calidad - una cosa redonda. La superfície está equivalente á un barnizado
100%

100%
Fitting

Fitting
Besondere Bestellnummern
ean13

4000444727996
Can not connect to Instagram or you do not have permissions to get media from Instagram.