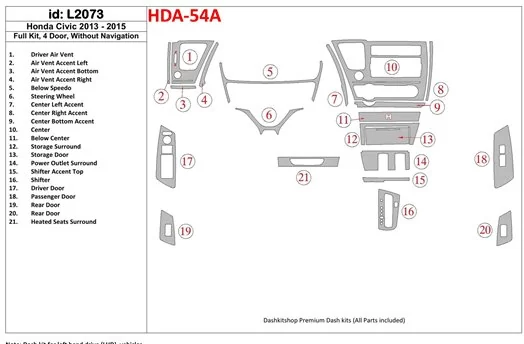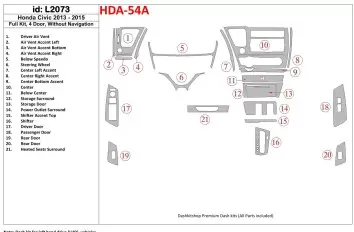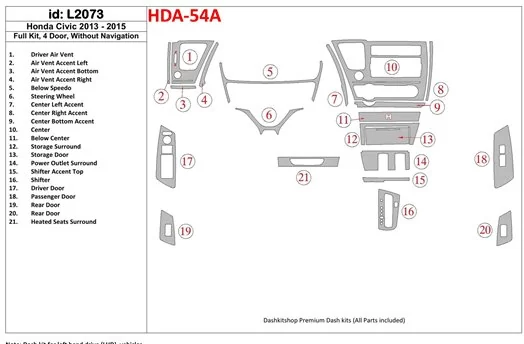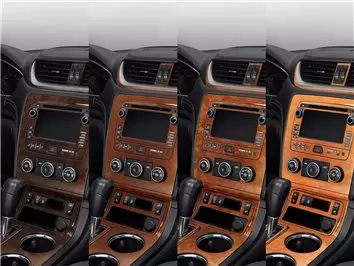 Honda Civic 2013-UP Voll Satz, 4 Doors, Without NAVI BD innenausstattung armaturendekor cockpit dekor
Herstellungszeit 5-9 Tage,Lieferzeit 1-5 Tage
steuerfrei
Automarke: Honda
Fahrzeugmodell: Civic
Variante: Alle Modelle und Versionen
Herstellungsjahr:2013-Ab
Menge der Verkleidungsteile: Aus dem Produktdiagramm
Position des Innenraum-Anpassungsteils: Armaturenbrett, Türen, Lüftungsschlitze, Handschuhfach, Lenkrad, Lichtschalter, Getriebe
3D-Effekt durch dickes Material, ergibt Hochglanz-Effekt, Wurzelholz, Carbon, Fahrzeugausstattung Woodline, Carbon, Glanzdekor de luxe Top-Qualität
Exclusive 3D Fahrzeug-Ausstattung Woodline Dekor de Luxe Top Qualität.
Eine exklusive Aufwertung für Ihr Fahrzeug – chic, elegant, wertvoll
20 edle oder moderne Designs zur Auswahl an. Ob z. B. Wurzelholz, Mahagoni, Alu, Carbon
oder Techno, für jeden Typ ist etwas dabei, alle zum gleichen Preis
3D-Effekt durch 2,5-5 mm dickes Material, ergibt einen Hochglanz-Effekt (hergestellt aus Polyurethane PUR)
Qualitativ sehr hochwertige Ausführung – eine runde Sache ohne Ecken und Kanten. Die Oberfläche entspricht einer 10-fachen Lackierung mit Hochglanzpolitur
Absolut passgenau für das jeweils angegabene Fahrzeug, VHB hitzebeständig und kälteresistent, biegsam und flexibel. Nicht zum Überkleben vorhandener Dekoraufsätze geeignet.
PU-PUR Kratzfest und splitterfrei – keine Verletzungsgefahr bei einem Unfall (TÜV-Sicherheitsgeprüft)
Schnellmontage in ca. 10-15 Minuten – selbstklebend ohne Einsatz von aggressivem, giftigem Sekundenkleber. Beste Haftung garantiert.
Wieder ablösbar – keine Beschädigung des Untergrundes bei der Montage möglich.
Passgenau verfügbar für hunderte Fahrzeuge.
Alle Sets sind passgenau für das jeweils angegebene Fahrzeug. Wählen Sie eines von 20 edlen oder modernen Designs zur Auswahl an. Ob z. B. Wurzelholz, Mahagoni, Alu, Carbon
oder Techno, für jeden Typ ist etwas dabei. – alle zum gleichen günstigen Preis!Schauen Sie sich zu unserem Beispiel in der Einbauanleitung die passenden Vorher-Nachher-Bilder an und entscheiden Sie selbst.
Neues InnenDekor, zum Beispiel im Aluminium-Look, INOX-Look, Chrome-Look.
Cockpit PVC folien-Designs für jeden Geschmack. Aluminium Cockpitdekor, Chrom Cockpit, INOX Gebruched Dekor

& Between -40 / +280C short-term heat resistance
& Excellent solvent resistance
& Excellent shear strength to resist slippage and edge lifting
Carbon Fiber Dash Kit by Cockpitdekor. Installing a dash kit from AutoDekor s.r.o. is the perfect way to make a drab standard vehicle interior inviting and attractive. The high quality, perfect fit and easy installation make it easy to create an individualized and luxurious vehicle interior.
Features:
Durable coat and attractive finish for a sleek look and unmatched UV resistance
AutoDekor dash kits are poured with advanced polyurethane clear coat and feature a brilliant high-gloss finish and beautiful domed edge. They provide incredible flexibility and ultimate UV protection.

Designed to provide an excellent factory fit
AutoDekor dash kits are meticulously engineered for a true factory fit. No sloppy edges, misaligned cutouts or parts that peel off.

Can be easily attached using strong adhesive
Durable adhesive for maximum bond-strength, built-in adhesive primer. Dash pieces can be repositioned during installation for a perfect fit.

Available in a variety of exclusive finishes
Customize your dash kit with the finest genuine and faux finishes available. Choose a high-gloss or matte top coat. You can even use your own paint-code.

Excellent finish consistency when combining several dash kits
Because AutoDekor manufactures all products in-house, when you combine a flat dash kit, molded dash kit and steering wheel, all finishes match perfectly.

Pour clear coat for a smooth and shiny look
AutoDekor pour clear coat over cutouts to allow backlit factory symbols to shine through (ie. "PWR" on a radio), creating a smooth surface & clean look.

Factory symbol printing
On select dash trim kits, AutoDekor reprint non-backlit factory symbols underneath clear coat to maintain a true factory look.

Designed to ensure a perfect factory color match
Using proprietary techniques and advanced quality control, AutoDekor produces the most accurate and consistent factory color matches available.

No Individual Part Liner
B&I flat dash parts are packaged on clear liner sheets to save you the time and trouble of picking liner off each part.
3 Years gainst manufacturer defects in material and workmanship
AutoDekor s.r.o. dash kits are backed with a limited lifetime warranty against manufacturer defects in material and workmanship.
Installation of a 3D Premium Dash Trim kit from AutoDekor transforms your plain old vehicle interior and makes it exciting and elegant. Choose trim in real or synthetic wood, real or imitated carbon fiber, metal or solid colors, to cover the areas that the manufacturer of your vehicle left bare. The AutoDekor 3D dash kits feature a 3M adhesive backing that does not require messy primer. The adhesive does not stick permanently until it has cured, which allows you to reposition components that have not been placed with the precision you desire, without creating a mess. The real wood components are made with seamless wood. Edges are laser blackened to give a smooth visual transition to the original panels behind the trim.
AutoDekor takes pride in its precise fitments. UV-Print cutouts for dashboard lights and illuminated symbols and OEM symbol printing provide a true OEM look. The AutoDekor Tru MATCH color matching technology ensures a perfect match to OEM trim and between different AutoDekor trim components. This makes it easy to match a custom trim steering wheel from B&I to both the original interior panels and custom trim dash kits, for unsurpassed consistency in materials and color of your customized interior. Chrome and logo highlights are available for selected trim kits. All materials (except real metal) are covered with a protective, scratch and UV resistant ColorDec clear coat with a gloss or matte surface.
---
Fit and finish are also very good.