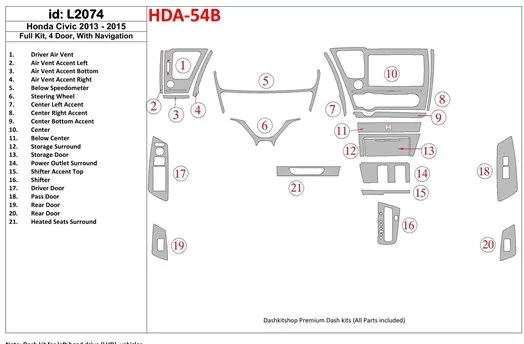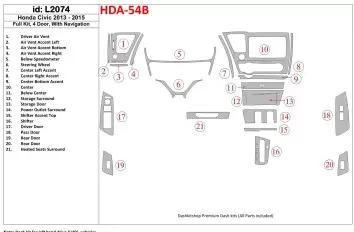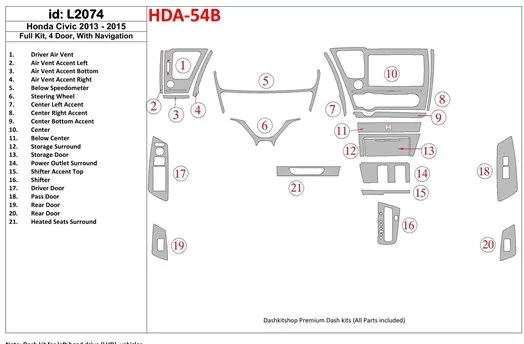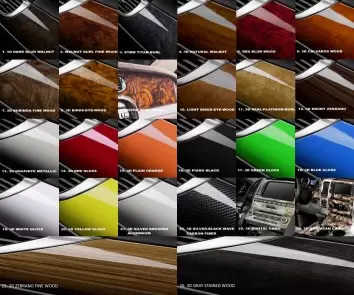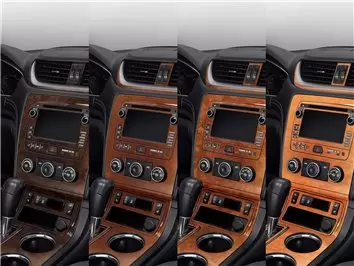 Honda Civic 2013-UP Ensemble Complet, 4 Doors, With NAVI BD Décoration de tableau de bord
Délai de production 5-9 jours, délai de livraison 1-5 jours
Aucune taxe
Marque du véhicule : Honda
Modèle : Civic
Variante : tous les modèles et toutes les versions
Année de fabrication : 2013-UP
Quantité de pièces de garniture : à partir du schéma du produit
Position de la pièce de personnalisation intérieure : tableau de bord, portes, bouches d'aération, boîte à gants, volant, interrupteur d'éclairage, boîte de vitesses
Effet 3D à travers un matériau épais, donne un effet brillant, bois de ronce, carbone, garnitures de véhicule Woodline, fibre de carbone, décor brillant de luxe de qualité supérieure
Dash Trims Manufactured using Original 3D High Performance Strong Acrylic Adhesive is a popular choice, and
industry standard, for graphic attachment and general industrial joining
applications.
- Aimeriez-vous que votre véhicule ressemble à une voiture de luxe ? Sans que cela ne vous coûte beaucoup!
- Les kits tableau de bord AUTODEKOR, amèneront votre véhicule dans un monde d'élégance en quelques minutes.
- Cette garniture de tableau de bord va ajouter chic et élégance à la cabine de votre camping-car.
- Grâce à la conception unique de notre produit, l'effet 3D donné est équivalent à 10 couches de laque et l'apparence finale est bluffante.
- Le montage est très facile et il vous faudra environ 15 minutes pour un kit !
- Souple, s'adapte parfaitement aux formes du tableau de bord.
- N'endommage pas le support d'origine
- Caractéristiques du produit:
- Effet 3D par épaisseur de matériau de 3,5-5 mm épais
- Auto Sandwich au ruban adhésif fort,
- en polyuréthane (PUR), plus couramment nommé "silicone",
- résistant aux températures élevées et basses,
- matériaux de qualité souple et flexible (sécurité en cas d'accident : ne casse pas),
- incassable, anti-éclats, avec bords arrondis,
- Facile à installer (avec auto-adhésif obligataire: sans colle!)
- Aspect hautement brillant (équivalent 15 couches de vernis)
- pas de risque de dommages en cas de retrait,
- choix individuel de la conception,
- ajuster le modèle de votre voiture,
- Coloris : Essences de bois précieux, métal, carbone, couleur brillante -Ou à votre commande +++++++++
- Tous nos kits d'habillage de tableau de bord 3D sont découpées au laser et conçu pour s'adapter parfaitement au-dessus de vos pièces d'usine existants

 Between -40 / +280C short-term heat resistance
 Excellent solvent resistance
 Excellent shear strength to resist slippage and edge lifting
Carbon Fiber Dash Kit by Cockpitdekor. Installing a dash kit from AutoDekor s.r.o. is the perfect way to make a drab standard vehicle interior inviting and attractive. The high quality, perfect fit and easy installation make it easy to create an individualized and luxurious vehicle interior.
Features:
Durable coat and attractive finish for a sleek look and unmatched UV resistance
AutoDekor dash kits are poured with advanced polyurethane clear coat and feature a brilliant high-gloss finish and beautiful domed edge. They provide incredible flexibility and ultimate UV protection.

Designed to provide an excellent factory fit
AutoDekor dash kits are meticulously engineered for a true factory fit. No sloppy edges, misaligned cutouts or parts that peel off.

Can be easily attached using strong adhesive
Durable adhesive for maximum bond-strength, built-in adhesive primer. Dash pieces can be repositioned during installation for a perfect fit.

Available in a variety of exclusive finishes
Customize your dash kit with the finest genuine and faux finishes available. Choose a high-gloss or matte top coat. You can even use your own paint-code.

Excellent finish consistency when combining several dash kits
Because AutoDekor manufactures all products in-house, when you combine a flat dash kit, molded dash kit and steering wheel, all finishes match perfectly.

Pour clear coat for a smooth and shiny look
AutoDekor pour clear coat over cutouts to allow backlit factory symbols to shine through (ie. "PWR" on a radio), creating a smooth surface & clean look.

Factory symbol printing
On select dash trim kits, AutoDekor reprint non-backlit factory symbols underneath clear coat to maintain a true factory look.

Designed to ensure a perfect factory color match
Using proprietary techniques and advanced quality control, AutoDekor produces the most accurate and consistent factory color matches available.

No Individual Part Liner
B&I flat dash parts are packaged on clear liner sheets to save you the time and trouble of picking liner off each part.
3 Years gainst manufacturer defects in material and workmanship
AutoDekor s.r.o. dash kits are backed with a limited lifetime warranty against manufacturer defects in material and workmanship.
Installation of a 3D Premium Dash Trim kit from AutoDekor transforms your plain old vehicle interior and makes it exciting and elegant. Choose trim in real or synthetic wood, real or imitated carbon fiber, metal or solid colors, to cover the areas that the manufacturer of your vehicle left bare. The AutoDekor 3D dash kits feature a 3M adhesive backing that does not require messy primer. The adhesive does not stick permanently until it has cured, which allows you to reposition components that have not been placed with the precision you desire, without creating a mess. The real wood components are made with seamless wood. Edges are laser blackened to give a smooth visual transition to the original panels behind the trim.
AutoDekor takes pride in its precise fitments. UV-Print cutouts for dashboard lights and illuminated symbols and OEM symbol printing provide a true OEM look. The AutoDekor Tru MATCH color matching technology ensures a perfect match to OEM trim and between different AutoDekor trim components. This makes it easy to match a custom trim steering wheel from B&I to both the original interior panels and custom trim dash kits, for unsurpassed consistency in materials and color of your customized interior. Chrome and logo highlights are available for selected trim kits. All materials (except real metal) are covered with a protective, scratch and UV resistant ColorDec clear coat with a gloss or matte surface.
---
Fit and finish are also very good.