Bouwer en model van het voertuig:
Model: Audi A3 8V ab 2012-2018
Variant: Alle modellen
Anné de la construction depuis:
Aantal Delg:
Positie van onderdelen: interieurafstemming, dashboard, deuren, ventilatieopeningen, dashboardkastje, stuurwiel, lichtschakelaar, versnellingsbak, interieurdecoratie
Glans in voertuigkleur, hout, koolstofvezel, koolstof, chroom, beplating, aluminium
Exclusieve 3D voertuiguitrusting Woodline Decor de Luxe Topkwaliteit.
Een exclusieve upgrade voor uw voertuig - chic, elegant, waardevol
20 nobele of moderne ontwerpen om uit te kiezen. Of z. Als wortelhout, mahonie, aluminium, koolstof of techno is er voor elk type iets, alles voor dezelfde prijs
3D-effect door 2,5-5 mm dik materiaal resulteert in een hoogglanseffect (gemaakt van polyurethaan PUR)
Hoogwaardige afwerking - een rond ding zonder hoeken en randen. Het oppervlak komt overeen met een 10-voudige coating met hoogglans polish
Absoluut op maat gemaakt voor het gespecificeerde voertuig, 3M VHB hittebestendig en koudebestendig, flexibel en flexibel. Niet geschikt om over bestaande decoratieve bijlagen te plakken.
PU-PUR Krasvrij en splintervrij - geen risico op letsel bij ongevallen (TÜV-veiligheidscertificaat)
Snelle montage in ca. 10-15 minuten - zelfklevend zonder het gebruik van agressieve, giftige superlijm. Beste hechting gegarandeerd.
Weer verwijderbaar - geen schade aan het substraat tijdens de installatie mogelijk.
Perfect geschikt voor honderden voertuigen.
Alle sets zijn geschikt voor het opgegeven voertuig. Kies uit 20 nobele of moderne ontwerpen om uit te kiezen. Of z. Als wortelhout, mahonie, aluminium, koolstof of techno is er voor elk type iets. - alles tegen dezelfde lage prijs! Bekijk ons ​​voorbeeld in de installatie-instructies van de juiste voor-en-na foto's en beslis zelf.
Nieuw Auto interieur, bijvoorbeeld in aluminiumlook, INOX-look, chroomlook.
Cockpit PVC-foliedesign voor elke smaak. Aluminium cockpitdecor, chromen cockpit, inox Gebouwd decor
latest resin technology - flexible compound that avoids cracking

Heat resistant to 195 degrees C - UV and Flame resistant too!

Easy mounting with

3M™

Backing - in as little as 10 minutes

Full Fitting Instructions Provided

Easily removed if you want to sell your Vehicle

Non Toxic - no harmful substances for Personal Health

Excellent value for your Car,Pick-Up, Van, Lorry, Bus giving an excellent finishing touch.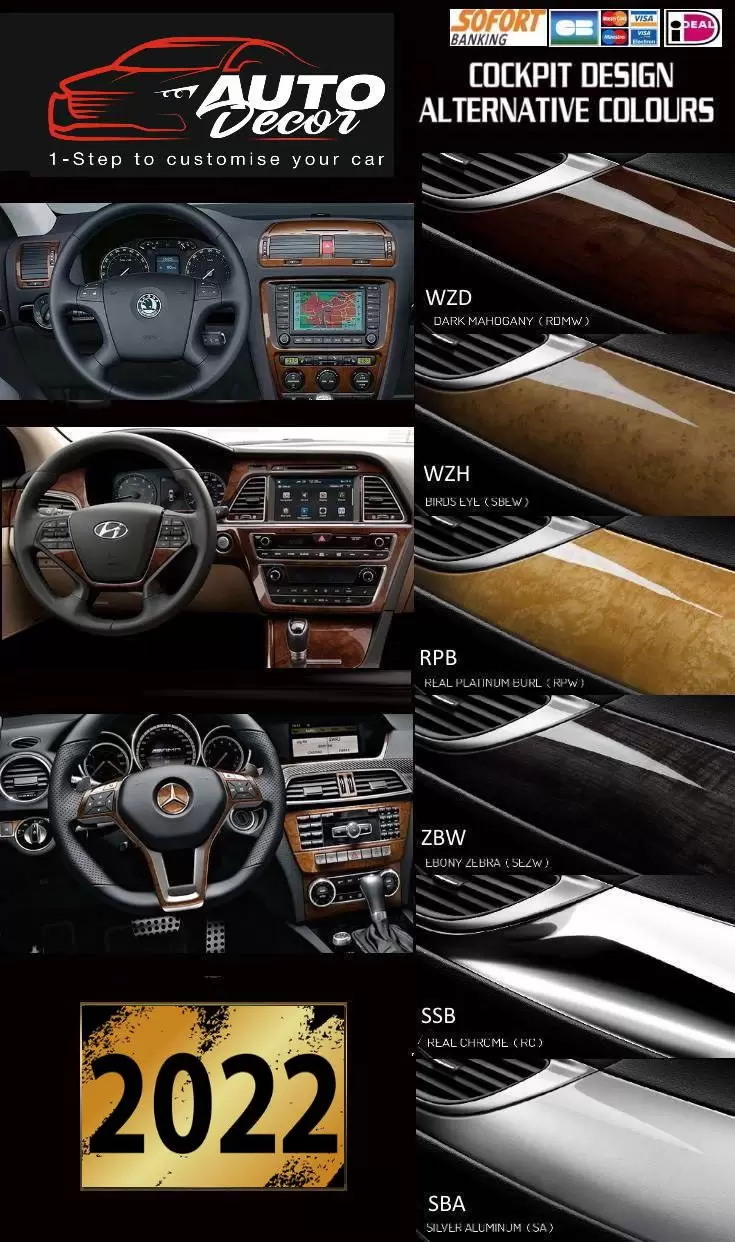 Datasheet
Exclusive

Wood
Voertuigtype

Passenger car
3D

3D
100%

100%
Fitting

Fitting
Specifieke referenties
ean13

4000444727996
Can not connect to Instagram or you do not have permissions to get media from Instagram.