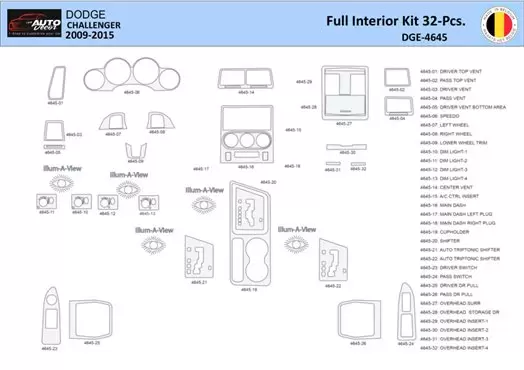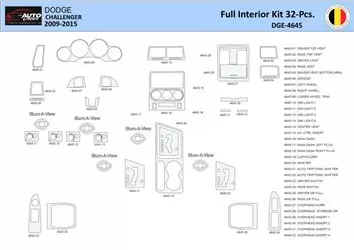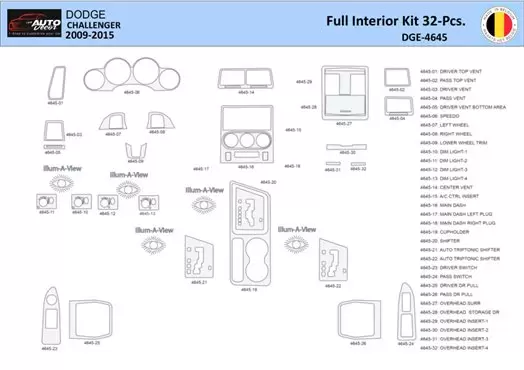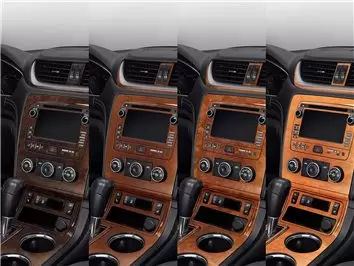 Dodge Challenger 2011-2015 Decor de carlinga su interior del coche 42 Partes
Tiempo de producción 5-9 días, tiempo de entrega 1-5 días
Sin impuestos
Tipo de vehículo, marca: Dodge
Modelo de vehículo:Challenger
Variante: Todos los modelos y versiones
Año de manufactura:2011-2015
Cantidad de piezas de ajuste:42
Posición de la pieza de personalización interior: Tablero de instrumentos, Puertas, Salidas de aire, Guantera, Volante, Interruptor de luz, Caja de cambios
Efecto 3D a través del material grueso, da un efecto de alto brillo, madera nudosa, carbono, molduras para vehículos Woodline, fibra de carbono, decoración brillante de lujo de primera calidad
Ahora puede agregar acentos de vetas de madera adicionales a los lugares que el fabricante no atiende. Si compró su vehículo con paneles de moldura de madera originales de fábrica y siente que a su tablero le faltan partes de madera obvias o simplemente necesita más moldura de madera, el kit de ajuste de fábrica es el camino a seguir.
Los kits AutoDekor Factory Match están diseñados para combinar con precisión el color y la veta de la madera original. El proceso avanzado de ingeniería y fabricación hace que este producto sea duradero y resistente a los arañazos y los rayos ultravioleta. El diseño CAD y la última tecnología láser garantizan un ajuste exacto. Además, se aplica un revestimiento de poliuretano a todas las piezas, lo que le otorga una protección de por vida. Ahorre cientos de dólares en lo que cobraría el concesionario instalando usted mismo un kit de tablero personalizado.
Los kits de AutoDekor se basan en las mediciones realizadas en cada modelo de vehículo individual por el equipo de medición de la empresa. Estas medidas son la base para el diseño asistido por computadora que crea patrones digitales que gobiernan las cortadoras láser CNC que producen los kits. Antes de encargar cualquier kit para la producción, se prueba cada pieza en un vehículo real, para asegurarse de que el ajuste sea perfecto y que la pieza sea fácil de colocar. Las cortadoras láser CNC aseguran que cada kit se corte a la perfección con cortes limpios. El sistema avanzado de combinación de colores asegura que las piezas combinadas de fábrica obtengan el mismo patrón y tono de color que la moldura instalada de fábrica. Las piezas de moldura están montadas con un respaldo adhesivo de grado automotriz de 3M para una fijación permanente segura. Todas las piezas de moldura, excepto las piezas de metal real, están recubiertas con una capa transparente de poliuretano resistente a los arañazos y con protección UV. Este es un recubrimiento que nunca se despega y mantiene intacto el color del material subyacente. Con un kit de tablero de AutoDekor, nunca tendrá los problemas que se encuentran con los kits tradicionales de madera o de imitación de madera, donde los colores de la madera se decoloran y la capa protectora se pela. Los componentes de AutoDekor mantendrán su buen aspecto durante la vida útil de su vehículo
Carbon Fiber Dash Kit by Cockpitdekor. Installing a dash kit from AutoDekor s.r.o. is the perfect way to make a drab standard vehicle interior inviting and attractive. The high quality, perfect fit and easy installation make it easy to create an individualized and luxurious vehicle interior.
Features:
Durable coat and attractive finish for a sleek look and unmatched UV resistance
AutoDekor dash kits are poured with advanced polyurethane clear coat and feature a brilliant high-gloss finish and beautiful domed edge. They provide incredible flexibility and ultimate UV protection.

Designed to provide an excellent factory fit
AutoDekor dash kits are meticulously engineered for a true factory fit. No sloppy edges, misaligned cutouts or parts that peel off.

Can be easily attached using strong adhesive
Durable adhesive for maximum bond-strength, built-in adhesive primer. Dash pieces can be repositioned during installation for a perfect fit.

Available in a variety of exclusive finishes
Customize your dash kit with the finest genuine and faux finishes available. Choose a high-gloss or matte top coat. You can even use your own paint-code.

Excellent finish consistency when combining several dash kits
Because AutoDekor manufactures all products in-house, when you combine a flat dash kit, molded dash kit and steering wheel, all finishes match perfectly.

Pour clear coat for a smooth and shiny look
AutoDekor pour clear coat over cutouts to allow backlit factory symbols to shine through (ie. "PWR" on a radio), creating a smooth surface & clean look.

Factory symbol printing
On select dash trim kits, AutoDekor reprint non-backlit factory symbols underneath clear coat to maintain a true factory look.

Designed to ensure a perfect factory color match
Using proprietary techniques and advanced quality control, AutoDekor produces the most accurate and consistent factory color matches available.

No Individual Part Liner
B&I flat dash parts are packaged on clear liner sheets to save you the time and trouble of picking liner off each part.
3 Years gainst manufacturer defects in material and workmanship
AutoDekor s.r.o. dash kits are backed with a limited lifetime warranty against manufacturer defects in material and workmanship.
Installation of a 3D Premium Dash Trim kit from AutoDekor transforms your plain old vehicle interior and makes it exciting and elegant. Choose trim in real or synthetic wood, real or imitated carbon fiber, metal or solid colors, to cover the areas that the manufacturer of your vehicle left bare. The AutoDekor 3D dash kits feature a 3M adhesive backing that does not require messy primer. The adhesive does not stick permanently until it has cured, which allows you to reposition components that have not been placed with the precision you desire, without creating a mess. The real wood components are made with seamless wood. Edges are laser blackened to give a smooth visual transition to the original panels behind the trim.
AutoDekor takes pride in its precise fitments. UV-Print cutouts for dashboard lights and illuminated symbols and OEM symbol printing provide a true OEM look. The AutoDekor Tru MATCH color matching technology ensures a perfect match to OEM trim and between different AutoDekor trim components. This makes it easy to match a custom trim steering wheel from B&I to both the original interior panels and custom trim dash kits, for unsurpassed consistency in materials and color of your customized interior. Chrome and logo highlights are available for selected trim kits. All materials (except real metal) are covered with a protective, scratch and UV resistant ColorDec clear coat with a gloss or matte surface.